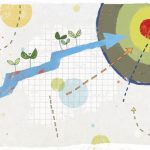 The next 100 years will see radical transformations where the role of bio based resources are clearly becoming more crucial.
A bio-based economy that seeks solutions from biological resources is proposed as the next phase of economic development providing renewable energy and resources.  It is the relationship between society, technology and nature that really become interesting in this 'bio-age'. The bioeconomy has been widely interpreted, with strategies formed around it some positive offering renewable solutions and others more problematic threatening nature. In what ways will the bioeconomy contribute or hinder a more sustainable society?
The aim of the BioEcoJust project is to identify and explore key ethical decisions for the future bioeconomy through 2125. Our approach in the research consortium combines the two fields of Ethics & Foresight.
… read more about our project description here.
Funded by the Academy of Finland's research programme BioFuture 2025, Bioeconomy and Justice (BioEcoJust) is a research project that aims at understanding the role of the bioeconomy in the future. This project combines forces of Futures Studies and Philosophy to seek new knowledge on the future of bioeconomy and to put this knowledge to practical use.