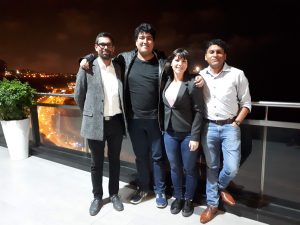 In November 2018, project researcher Marianna B. Ferreira-Aulu met with Omar Del Carpio, Pool De Lama, Gabriela García and Axel Farfán, from the Peruvian Foresight and Innovation Biofuture Lab.
In this very fruitful meeting, we shared common themes being researched in Finland and Peru, and we also discussed possibilities for future cooperation. The lab specializes in prospective and innovation for the bioeconomy of Latin America and the Caribbean and have a special focus on the Amazon region, which is an area little explored by the Finnish team, but recognized as an important region when talking about the future of bioeconomy.
We hope this will bring positive cooperation opportunities in the future.